𝗕𝗥𝗫 𝟮𝟬𝟮𝟯 𝗗𝗜𝗚𝗜𝗧𝗔𝗟 𝗖𝗢𝗡𝗙𝗘𝗥𝗘𝗡𝗖𝗘 𝗨𝗡𝗩𝗘𝗜𝗟𝗦 𝗟𝗜𝗙𝗘-𝗦𝗔𝗩𝗜𝗡𝗚 𝗩𝗜𝗗𝗘𝗢 𝗦𝗘𝗥𝗜𝗘𝗦 𝗢𝗡 𝗗𝗜𝗦𝗔𝗦𝗧𝗘𝗥 𝗣𝗥𝗘𝗣𝗔𝗥𝗘𝗗𝗡𝗘𝗦𝗦
Legarda, Abalos, and Solidum Deliver Key Messages on Disaster Resilience
Cebuana Lhuillier Foundation Inc. (CLFI) successfully premiered Cebuana Alerto, a disaster-preparedness video series, at the Barangay Resilience Exchange 2023, the biggest digital conference on disaster resilience in the Philippines during its broadcast last September 8, 2023.
Senator Loren Legarda, Department of Interior and Local Government (DILG) Secretary Benjamin Abalos, Jr., and Department of Science and Technology (DOST) Secretary Renato Solidum, Jr. delivered the key messages in the conference with the theme, "Maging Alerto: Maghanda at Magtulungan Para sa Kaligtasan." (Preparedness and Collaboration for Everyone's Safety)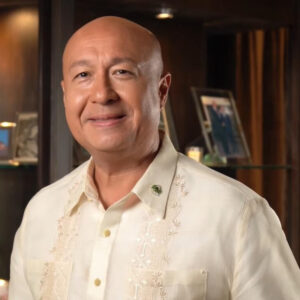 "Our vision is simple yet profound – to empower every community, particularly those with limited resources, with the skills and knowledge needed to stand strong in the face of calamity. We believe that disaster resilience is not a privilege but a right that every citizen deserves," stated Jean Henri Lhuillier, President and CEO of the PJ Lhuillier Group of Companies, in his welcome remarks at the BRX 2023 conference.
CLFI is the philanthropic arm of the PJ Lhuillier Group of Companies.
The BRX is an initiative of CLFI that started in 2016 as a forum to promote disaster resilience. Over the years, it has evolved as a national conference supported by barangay leaders, government agencies, local government units, and private organizations.
"At this point in the history of mankind where calamities and accidents are more severe and frequent, we believe in CLFI that it is our responsibility to share knowledge and skills so that everyone would be prepared, equipped, and alert," explained Jonathan Batangan, Executive Director of Cebuana Lhuillier Foundation, Inc.
Coinciding with the BRX 2023 digital conference, CLFI produced the first three episodes of Cebuana Alerto, a video series on disaster preparedness that aims to raise awareness and equip communities with knowledge and life-saving skills. It is packed with actual rescue demonstrations for emergencies occurring during typhoons, floods, earthquakes, and accidents.
Cebuana Alerto is hosted by Dr. Ted Esguerra, an operational medicine instructor at the International Disaster Response Network and disaster manager of the Energy Development Corporation, who shared his experience and expertise in the field of rescue operations.
Heads of government departments and agencies, and private organizations related to disaster resilience joined the three-hour conference which was streamed live on Facebook. Here are highlights of some of the key points from their messages: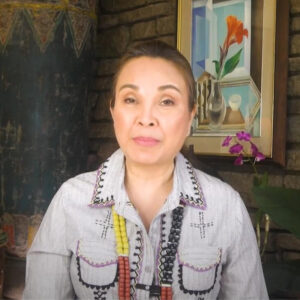 𝗦𝗲𝗻𝗮𝘁𝗼𝗿 𝗟𝗲𝗴𝗮𝗿𝗱𝗮: 𝗟𝗮𝘄𝘀 𝗼𝗻 𝗗𝗶𝘀𝗮𝘀𝘁𝗲𝗿 𝗥𝗲𝘀𝗶𝗹𝗶𝗲𝗻𝗰𝗲
In her keynote message, Senator Legarda highlighted the laws she has co-sponsored to promote disaster risk reduction and management:
"We must prioritize the preparation phase of disaster risk reduction and management. The Philippine Disaster Risk Reduction and Management Act of 2010, which I co-sponsored, provides a strong framework and plans for anticipating and mitigating various disasters. It is crucial for our leaders to prioritize infrastructure and equipment that are crucial in mitigating the effects of different disasters.
"In 2012, we passed the People's Survival Fund Act (Climate Change). Local government units (LGUs) must make use of the resources derived from it. The funds are available to LGUs for the management and implementation of activities that guarantee the risk insurance needs of farmers, agricultural workers, and other stakeholders. It will also be used to create regional centers and information networks, setting up forecasting and early warning systems."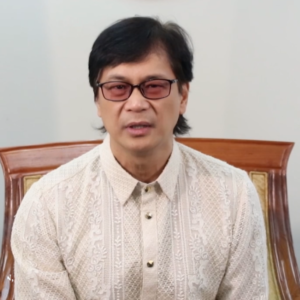 𝗗𝗜𝗟𝗚 𝗦𝗲𝗰𝗿𝗲𝘁𝗮𝗿𝘆 𝗔𝗯𝗮𝗹𝗼𝘀: 𝗢𝗽𝗲𝗿𝗮𝘁𝗶𝗼𝗻 𝗟𝗶𝘀𝘁𝗼
Secretary Abalos highlighted one of the disaster advocacy programs of the DILG called "Operation LISTO" which he said strengthens the disaster preparedness of local government units (LGUs) using the whole-of-government approach.
"Operation Listo institutionalized local protocols for disaster preparedness, response, and monitoring," stated Abalos.
He also pointed out that capacitating LGUs to act as the dependable first line-of-response units has been one of the crucial thrusts of the resilience programs of DILG.
"This is why we have incorporated disaster preparedness as one of the key indicators under the seal of good local governance that serves as a comprehensive award and incentive program conferred to LGUs."
Abalos reported that the DILG has successfully completed 1,123 infrastructure and non-infrastructure projects in 2022 under the disaster rehabilitation and re-construction assistance program, adding to their total of 1,258 sub-projects implemented this 2021. These projects have benefitted almost 3,015,000 households specifically those devastated by natural disasters from 2021 to 2022.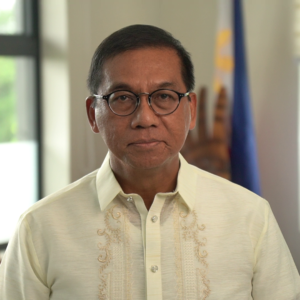 𝗗𝗢𝗦𝗧 𝗦𝗲𝗰𝗿𝗲𝘁𝗮𝗿𝘆 𝗦𝗼𝗹𝗶𝗱𝘂𝗺: "𝗛𝗶𝗻𝗱𝗶 𝗣𝘄𝗲𝗱𝗲𝗻𝗴 𝗕𝗮𝗵𝗮𝗹𝗮 𝗻𝗮 𝘀𝗶 𝗕𝗮𝘁𝗺𝗮𝗻"
Solidum stressed the importance of using science in disaster preparedness and mitigation:
"Ang mga katagang 'Bahala na si Batman' ay tila kariniwang sawikain ng mga Pilipino. Mga katagang madalas naibibigkas kapag may papalapit na banta ng panganib. . .
"Sa mga nagdaang taon, sa mga lumipas na sakuna sa Pilipinas at sa mga siyentipikong inpormasyon na naibahagi, hindi ba dapat, hindi na si Batman, kung hindi ikaw ang kikilos para sa iyong kaligtasan? Hindi ba dapat tayo ang gagalaw at mangunguna sa pagiging bida laban sa sakuna? Sa paghahanda ng ating pamilya? Ng ating mga kabuhayan?"
He pointed out that the mandate of the Department of Science and Technology through the country's warning agencies, PHIVOLCS and PAGASA, is to provide the public with reliable, effective, and timely risk information and warnings.
"The role of the early warning system is to provide people with time to prepare. Early warnings alone do not prevent hazards from turning into disasters. Rather, early warning triggers early action.
"Ang pagiging maalam sa mga siyantipikong inpormasyon ay magiging batayan sa hudyat ng pagiging alerto! Ang pagiging alerto ay dapat lamang na may kaukulang paghahanda.
"Likas sa ating mga Pilipino ang pagkakaisa at ang bayanihan. And we should harness the bayanihan spirit before a hazard strikes. Use the risk information and evidence to guide decision-making and planning. Let us help build and design cities and municipalities that are smart, sustainable, and resilient."
𝗨𝗻𝗱𝗲𝗿𝘀𝗲𝗰𝗿𝗲𝘁𝗮𝗿𝘆 𝗡𝗲𝗽𝗼𝗺𝘂𝗰𝗲𝗻𝗼: 𝗦𝘁𝗿𝗲𝗻𝗴𝘁𝗵𝗲𝗻 𝗢𝘂𝗿 "𝗕𝗮𝗴𝗼𝗻𝗴 𝗣𝗶𝗹𝗶𝗽𝗶𝗻𝗮𝘀"
Ariel Nepomuceno, administrator of the Office of Civil Defense – NDRRMC, expressed his sympathy for Filipinos who fall as victims of disasters and calamities:
"As the less fortunate repeatedly rebuild their lives that crumble following a disaster, it becomes more difficult for them to escape poverty… This aggravates poverty situations and remains a major obstacle to achieving sustainable development. At the macro level, funds and resources allocated for development are oftentimes converted to relief operations and assistance once a disaster strikes."
He supports President Bongbong Marcos's call for cooperation in strengthening his campaign for "Bagong Pilipinas" by building the capacity of individuals and communities to face disasters and quickly recover from their negative effects.
"Our united effort as a nation must stem from the barangay level. Our barangays must exemplify our common desire to develop resilience to withstand disasters and bounce back at the soonest. . . I also want to encourage all of you to continue strengthening both your knowledge and capability to deal with hazards and disasters. . . Your office of Civil Defense and the NDRRMC will remain relentless in harnessing the potential of multi-sector cooperation in building resilience."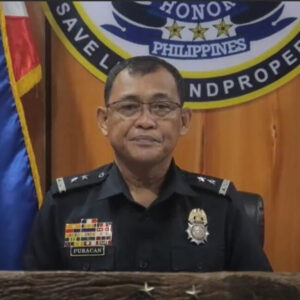 𝗙𝗗𝗜𝗥 𝗣𝘂𝗿𝗮𝗰𝗮𝗻: 𝗖𝗼𝗺𝗺𝘂𝗻𝗶𝘁𝘆 𝗜𝗻𝘃𝗼𝗹𝘃𝗲𝗺𝗲𝗻𝘁 𝗜𝘀 𝗞𝗲𝘆
Louie Puracan, Director of the Bureau of Fire Protection (BFP), stressed that apart from awareness, community involvement is the foundation of a resilient and emergency-ready neighborhood.
"This empowers them to take ownership of their safety by establishing early warning systems, conducting regular drills and risk assessment. These are validations of a community that can withstand any disasters that may come along."
The BFP with the implementation of Oplan Ligtas na Pamayanan, established the Community Fire Auxiliary Groups or CFAG. It is one of the bureau's principal goals to build a community (that is) equipped and knowledgeable in responding to destructive fire.
The BFP provides CFAG, fire brigades, and fire volunteers the basic knowledge, training, and skills that are responsive to their needs and capabilities. It also ensures the competency of fire volunteers and brigades throughout the country and recognizes their vital role as force multipliers and first responders during fire emergencies.
"We give high regard to their contributions as pivotal in the swift response in times of fire crisis."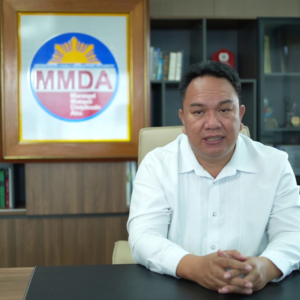 𝗔𝘁𝘁𝘆. 𝗣𝗮𝗯𝗹𝗼 𝗧𝗿𝗶𝗻𝗶𝗱𝗮𝗱: 𝗣𝘂𝗯𝗹𝗶𝗰 𝗦𝗮𝗳𝗲𝘁𝘆 𝗗𝘂𝗿𝗶𝗻𝗴 𝗗𝗶𝘀𝗮𝘀𝘁𝗲𝗿𝘀
Atty. Victor Pablo Trinidad, OIC Assistant General Manager for Planning of the Metropolitan Manila Development Authority (MMDA) stressed that public safety is an important mandate of the agency. That is why they put a premium on training their responders on disaster risk reduction and management.
"Isinusulong namin ang regular na pagsasagawa ng Metro Manila Shake Drill na naglalayong magbigay-kaalaman sa pribado at pampublikang sektor ng mga pwedeng gawin upang mabawasan ang mga negtibong epekto ng lindol.
"Patuloy din po nating ginagawang makabago ang ating mga kagamitan, gaya ng ating mga collapsed structure search and rescue tools and equipment. Kamakailan lang po ay inilunsad ng MMDA ang aming Communications Command Center na naglalayong mapabilis ang ating pag-responde sa mga sakuna. Magtatayo din po ang ahensya ng Disaster Rescue Training Facility sa Carmona, Cavite upang palawigin ang kakayahan ng ating mga rescuers at responders."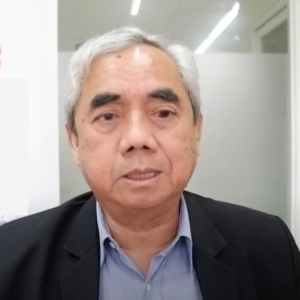 𝗔𝗹𝗲𝘅𝗮𝗻𝗱𝗲𝗿 𝗣𝗮𝗺𝗮: 𝗜𝗻𝗻𝗼𝘃𝗮𝘁𝗲 𝗮𝗻𝗱 𝗔𝗱𝗮𝗽𝘁
ARISE Philippines is a network of businesses committed to creating disaster-resilient societies through a private-public partnership approach. Their approach is multi-faceted, and their strategies and initiatives continually evolve to address emerging challenges.
Its co-chairman, Vice-Admiral Alexander Pama (ret) shared some of these key points:
"The landscape of disaster preparedness is ever evolving. Our strength lies in our ability to innovate and adapt… Disaster resilience is not the sole responsibility of any single organization or any individual, but an endeavor that thrives on a whole-of-society approach.
"Let's all work together to create a society in which disasters transform from obstacles into chances for progress, unity, and collective resilience."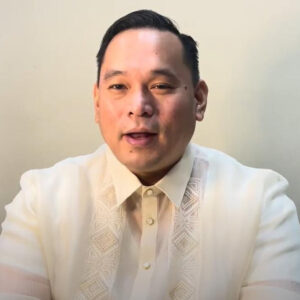 𝗔𝗻𝘁𝗵𝗼𝗻𝘆 𝗕𝗲𝗿𝗻𝗮𝗯𝗲: 𝗣𝗿𝗼𝘁𝗲𝗰𝘁 𝗬𝗼𝘂𝗿𝘀𝗲𝗹𝗳 𝗙𝗶𝗻𝗮𝗻𝗰𝗶𝗮𝗹𝗹𝘆 𝗕𝗲𝗳𝗼𝗿𝗲 𝗗𝗶𝘀𝗮𝘀𝘁𝗲𝗿𝘀
Anthony Bernabe, First Vice President of Cebuana Lhuillier Insurance Brokers explained the importance of ensuring the welfare of barangay workers as it "directly affects the community they serve."
"Our barangay workers work tirelessly to ensure the safety and well-being of our community members. They put in long hours, often under challenging conditions, to provide essential services. However, their dedication sometimes comes at a cost as accidents and unforeseen events can disrupt their ability to provide for their family.
"When they are protected through micro-insurance, including personal accident, microfire, and microhealth, the entire community benefits."
Cebuana Lhuillier has created very accessible and affordable micro-insurance products as a safety net that can help Filipinos in times of disasters and calamities. One of these products is "ProtectMax," a very affordable 4-in-1 insurance product.
𝗖𝗲𝗯𝘂𝗮𝗻𝗮 𝗥𝗔𝗣𝗜𝗗𝗢 𝗩𝗼𝗹𝘂𝗻𝘁𝗲𝗲𝗿 𝗖𝗼𝗿𝗽𝘀
CLFI Executive Director Jonathan Batangan announced that they are reactivating Cebuana RAPIDO, an in-house volunteer network from the PJ Lhuillier Group of Companies that can assist in disaster rescue and outreach programs.
In its second phase, CLFI will be extending this network of volunteers through strategic collaborations with other organizations and communities.
𝗠𝗼𝘃𝗶𝗻𝗴 𝗙𝗼𝗿𝘄𝗮𝗿𝗱
CLFI invites BRX participants to continue the conversation and collaboration on disaster resilience by joining the BRX community.
"Ngayon ang tamang panahon para umaksyon. Di sapat ang salita, dapat gumawa. . . Kapag tayo'y nagkapit-bisig, kaya nating harapin ang anumang pagsubok," Batangan called for action.
"I urge you all to be part of this national movement. Let's be the driving force behind change, the helping hand in times of need, and the beacon of hope for the vulnerable. Together, we can turn the tide of disasters. Together, we can transform despair into determination," Lhuillier concluded.