In Photo: CLFI Executive Director Jonathan Batangan at the League of Corporate Foundation's CSR Expo 2023 
"Financial Inclusion or Finclusion is a state where there is effective access to a wide range of financial products and services by all Filipinos. No one gets left behind," explained Jonathan D. Batangan, Executive Director of Cebuana Lhuillier Foundation (CLFI), during the 2023 CSR Expo of the League of Corporate Foundations (LCF) which is currently being held at the Makati Diamond Residences.
The 2023 CSR Expo featured an important session on Financial Inclusion with the theme, "Kasama Lahat: Building a Financially Inclusive and Sustainable Philippines."
As Financial Inclusion is the foundation of social development and poverty alleviation, the expo expounds on the topic with inputs from Cebuana Lhuillier Foundation which is a forerunner in advocating for financial literacy. The other panelists included BSP Deputy Director Cesar Augusto Villanueva, BDO Foundation Executive Director Mario Dequito, and BPI Foundation Executive Director Owen Cammayo.
"Cebuana Lhuillier is in a unique position to offer myriad financial solutions to achieve financial wellness, which I believe is the ultimate end goal of finclusion.
"If finclusion is the journey, financial wellness is the destination, and the oil that revs up the finclusion journey is financial literacy," Batangan added.
Amongst its various finclusion programs and initiatives, Batangan talked about CLFI's Tiponaryo, a nationwide financial literacy program emphasizing the importance of saving.
"Through this program, we are reaching out to 40 provinces from as far north as Batanes down to the southernmost island of Tawi-Tawi. To date, we've approached 20 provinces with the remainder target provinces to be completed before the year ends," he reported.
He also talked about the Kanegosyo Center which was launched by Cebuana Lhuillier last July 29, 2023. This new digital platform aims to empower MSMEs with financial services, business mentoring, and other accessible MSME solutions to help starting or growing businesses easier for aspiring and existing entrepreneurs.
Aligned with his program for economic growth, President Ferdinand Marcos, Jr. graced the launch of this program together with DILG Secretary Benhur Abalos and some LGU mayors.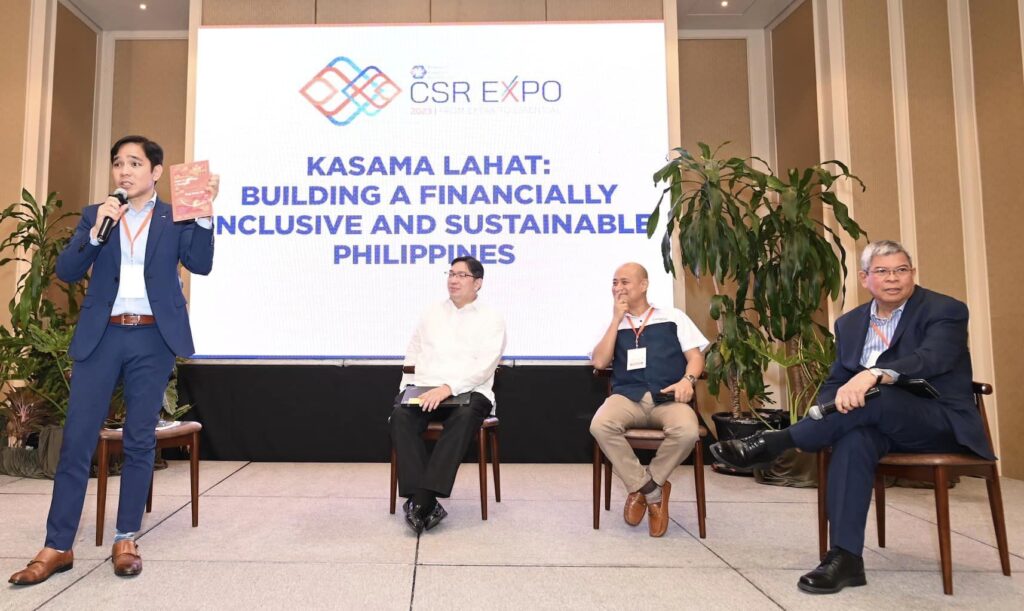 CLFI Executive Director Jonathan Batangan with panelists BSP Deputy Director Cesar Augusto Villanueva, BDO Foundation Executive Director Mario Dequito, and BPI Foundation Executive Director Owen Cammayo at the LCF